​Welcome to Sorelle Amore's Advanced Selfie University!​
Yes, I coined the phrase Advanced Selfies, and it has been taking the world by storm. So far, nearly a million people have watched my Advanced Selfie video tutorials on YouTube, and millions more have engaged with my photos on Instagram—people love this! Instead of the usual, boring, unimpressive selfies, you can turn them into pieces of art that'll stop people in their tracks. They'll be in disbelief that you took the shots yourself. WHOOOAA!
When it comes to my own images, time and time again people comment on how they look like an edgy high fashion shoot. They're FLOORED when they find out I take everything myself. No help, no production team—completely solo.
Yes, I'll admit it. Advanced Selfies are a little vain. But, you've probably never considered why you should learn to take them yourself, and how super useful they can be:
We all love great photos of ourselves. It raises our self-esteem and helps us tackle life better in general, when we know how great it's possible for us to look.
When you feel good about yourself, you ABSOLUTELY perform better in business, with family, in relationships, and interacting with friends. All that means you'll live better, and feel better mentally. So having great Advanced Selfies, I could say, is changing and saving lives. Ha! ;)
Having great photos of yourself will make you look more professional—in life, on Tinder, in the business world. Like it or not, people will judge you instantly based on your pictures. What impression are you giving people with your work?
Since starting my self-portraits, I've worked out how to better present myself to the world in everyday life, not just in front of the camera. I now know what outfits look best on me, I know what hairstyles look best on me, I know how to hold myself better including my confidence and posture. Taking Advanced Selfies has given me more insight into myself than I ever thought I'd have. It's a weird and unexpected personal development deep dive.
You will end up with great images showcasing the best side of yourself to impress your current or future children, grandchildren, family, and friends. Images that your children can pass on to their children. It's a great way to capture your history and a special moment in time.
You'll take much better travel photos and make people way too jealous—if that's something that you're after.
For any wannabe artists/models/musicians—you need great images to sell yourself as a brand. With the Advanced Selfie University, you don't need to hire any photographers to do this for you. You can do it yourself and save that cash! Actually, this also applies to anyone that has their own business, too. Basically, anyone that wants to be a public figure can benefit from this course.
Any photographers that want to understand how to pose their clients better, how to help overcome their fears, learn to get their subjects more comfortable, and get the best results out of them during your shoots. A better subject means better images, and in turn for you that means more repeat business and referrals—ie; more business and more CASH in your pocket.
And finally—anyone that doesn't want to spend money on a wedding photographer, just do your photos yourself! Hahaha. Joking… but honestly, I kind of see myself taking my own wedding photos one day, because why the hell not? Again, I'm joking! Maybe. Probably not. It's happening. Hell no, it's not happening.
I understand that a university for selfies sounds ridiculous. "You're totally taking this way too far, Sorelle." 

If you know me, you know I'm all about jokes and mocking things. And I mock things a lot. As an example, my preset pack for photo editing in Lightroom is called Hipster AF, and it includes presets named Beard Oil, Kale, Organic, and Cold Brew. 

Life shouldn't be taken too seriously. You'll understand my weird vibe as you continue through this course with me.
Now you know all the amazing benefits of taking your own advanced selfies…let's dive straight into it, damn it, and have some fun!
See you on the other side!
"I always have to look at photos of myself through other people's eyes. I am completely depending on someone else to decide how I look. I'm sick of it. I want to know what I think I look like. Advanced Selfies are allowing me to discover who I truly am through my own eyes."
- Jaime Fox Hardwick

"I think advanced selfies have helped me appreciate myself both emotionally and physically. It's also allowed my creativity to be fully my own and allowed me to acknowledge this is who I am at this moment in time. A time that cannot be repeated. It's a way to steady watch your creative growth as well as mark a significant time of emotion and physical growth. I think it's a powerful tool beyond just vanity, but rather it instills empowerment and creative challenges."
- Devyn Coleman

"With the Advanced Selfies you help people to like themselves even more, to get more comfortable in their skin. You make us want to create and give us inspiration. You showed me another kind of photography that I never thought I would enjoy doing as I've never really been comfortable in front of the camera. You're such an inspiration 😊"
- Pauline Chicart

"It's less about falling in love with myself and more about conquering my demons. In the moment I capture, I am proving that I am in control of my destiny even though I feel helpless to change anything around me or inside of me. There is so much strength in paying attention to the emotion or message you intend to put out into the world. Even more powerful when you strip yourself bare and use your own face to express it."
- Heather Downing

Class Curriculum
WELCOME!
Available in days
days after you enroll
PREPARATION
Available in days
days after you enroll
Frequently Asked Questions
What if I don't have a good camera?
The minimum gear needed for Mastering the Advanced Selfie is a mobile phone. Everything beyond that is a bonus.
What if I am not a professional photographer?
That's not a problem at all! I will teach you everything you know to be able to capture your photographs, even if you're a beginner!
I'm a professional photographer, is this course for me?
This course does cover some very basic aspects of photography, however most of the content is about mastering the art of the self-portrait including thorough information on posing. This course is for professional photographers who want to invest in learning how to pose their clients better and get better photos of them, or if you want to learn to take your own beautiful photographs.
When does the course start and finish?
The course starts now and never ends! It is a completely self-paced online course - you decide when you start and when you finish.
How long do I have access to the course?
How does lifetime access sound? After enrolling, you have unlimited access to this course for as long as you like - across any and all devices you own.
Your Instructor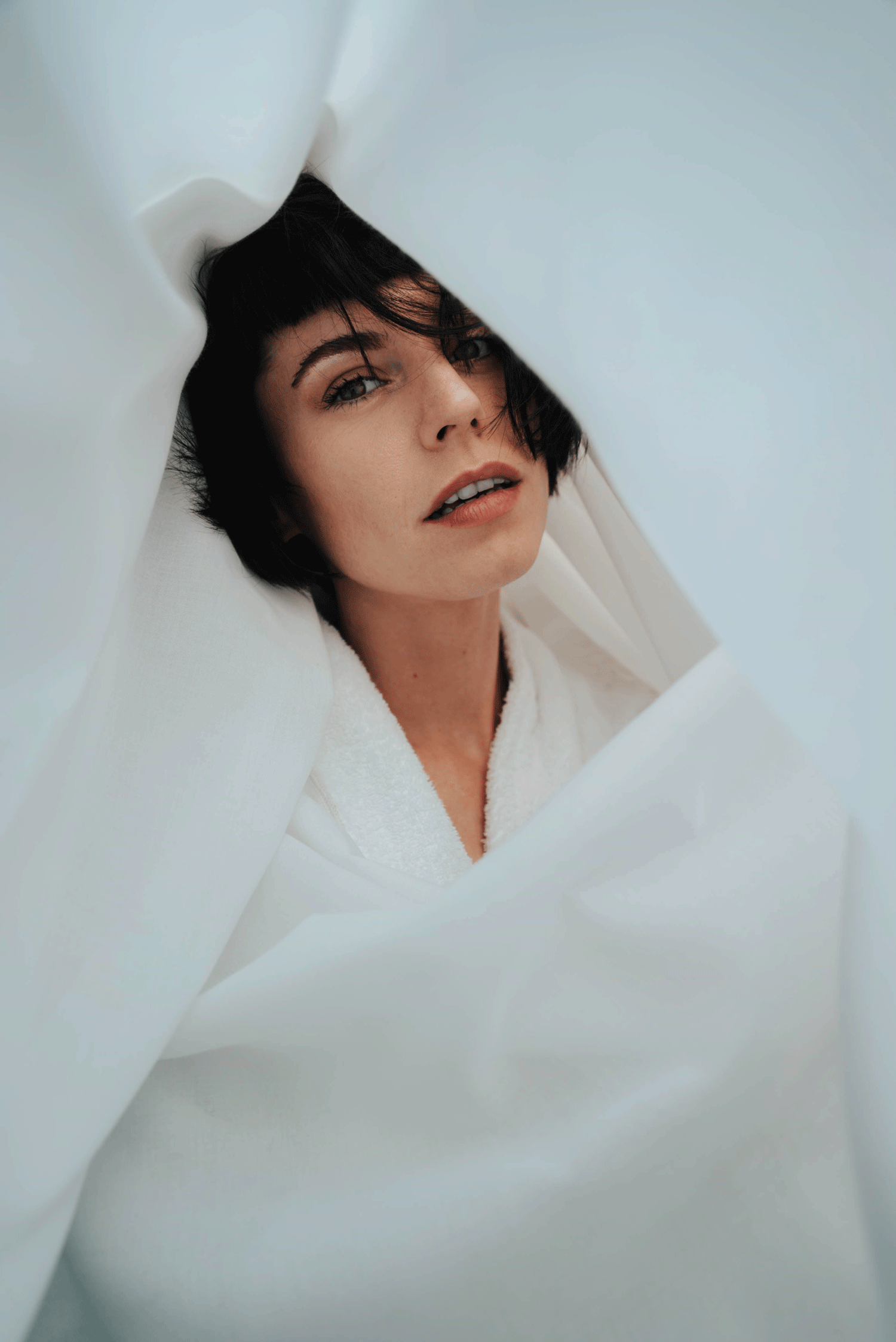 Sorelle Amore is a professional adventurer, photographer and YouTuber with over 1,000,000 people following her endless comprehensive online tutorials about photography, travel, the digital nomad life and more.

Sorelle uses her social media to inspire people to fall in love with life and themselves and she found the medium of Advanced Selfies to help people capture themselves beautifully even if previously they believed they couldn't look great in photographs, drastically improving their confidence.


"You are my daily inspiration ☀️ Thank God for your advanced selfies because didn't have any good photo with me and now I'm making my own photos thanks to you. So cool!! Kisses from Romania 🌈"
- Laura

"I need great photos of myself for my business but I'm too shy to work with professional photographers and they are also too expensive. Your Advanced Selfie information solved these problems and artistically I'm SO fulfilled! I'm having too much fun taking my own photos. THANK YOU!"
- Stephanie

"I'm going through an amazing process in the past two years and changing right in front of my eyes from a woman struggling for self-image and finding value to woman who is in love with herself. I was recently discovered to your instagram and from there to the Salafi challenge and decided to join your university to learn more. I can completely understand what you're talking about in the context of social media distractions. I also feel from time to time that I have to disconnect but in the end I draw inspiration from you and pass it on so that I believe that we are all in this world a pipe for spreading abundance. Please keep on doing what you do. You're wonderful. <3"
- Lihi Arasi

"Taking advanced selfies is just a great possibility for me to improve my photography skills. I like the fact that I don't need anything exept myself and a camera to get in action. And if the photos don't look nice, nobody cares. Having a community who also shares this passion and inspires you with different ideas makes everything even more enjoyable."
- Manuel Bussmann